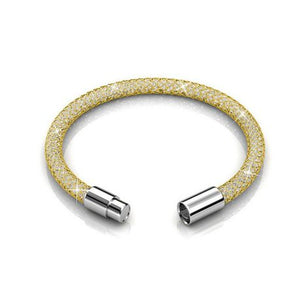 Features:
- The Destiny Mesh bracelet comprises of over 100 Swarovski crystals, it is a very light bracelet that closes with a magnetic clasp.
 - Avoid contact with water: do not wear jewellery when in the swimming pool, while bathing or showering, this may tarnish the jewellery and weaken the links and strands. 
- Dry jewellery thoroughly, in case of exposure to water. 
- Avoid contact with harsh chemicals such as cleaning products and perfumed products, e.g. soap, oils, perfume, hairspray and lotions. 
- Always put jewellery on last as a finishing touch
 -Wipe jewellery clean gently with a soft cloth if necessary. 
- Store away in a safe place to avoid tangling and damage and do not tug or pull at the strands
Specifications:
- Mesh bracelet , with approximately 100 pieces of 3mm Swarovski crystals.
- Stainless steel with 18K yellow gold plating Bracelet closes with magnetic clasp
What's in the box
Destiny Yellow Gold Mesh Bracelet with Swarovski Crystals