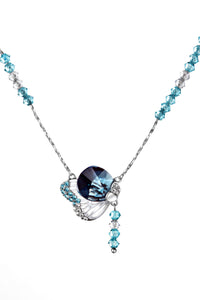 The CDE Drop Butterfly Necklace with Swarovski Crystals is a quaint and dainty little piece that would compliment any outfit.
Swarovski Crystals are a perfect blend of technological precision and artistic sensibility, firing the imagination and bringing light to every object they adorn.
Care instructions :
- Avoid contact with water: do not wear jewellery when in the swimming pool, while bathing or showering, this may tarnish the jewellery and weaken the links and strands. 
- Dry jewellery thoroughly, in case of exposure to water. 
- Avoid contact with harsh chemicals such as cleaning products and perfumed products, e.g. soap, oils, perfume, hairspray and lotions. 
- Always put jewellery on last as a finishing touch
- Wipe jewellery clean gently with a soft cloth if necessary. 
- Store away in a safe place to avoid tangling and damage and do not tug or pull at the strands
Specifications:
- Size of pendant : 2.5cm x 1.5cm
- length of chain : 45cm with 5 cm extension
- Swarovski crystals used : 1028pp5 white, pp5 sea blue, 53283MM white, 3MM India blue, 612812MM jean blue
- Metal type : Copper with Rhodium plating