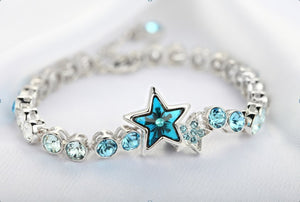 The CDE 925 Sterling Silver "Written in the Stars" Bracelet with Swarovski Crystals, will light up like a galaxy on your wrist. A stunning combination of Sterling Silver and Swarovski Elements that will shine as beautiful as the outfit its worn with.
Features:
- Swarovski Crystals are a perfect blend of technological precision and artistic sensibility, firing the imagination and bringing light to every object they adorn.
Care instructions:
- Avoid contact with water: do not wear jewellery when in the swimming pool, while bathing or showering, this may tarnish the jewellery and weaken the links and strands.
- Dry jewellery thoroughly, in case of exposure to water.
- Avoid contact with harsh chemicals such as cleaning products and perfumed products, e.g. soap, oils, perfume, hairspray and lotions.
- Always put jewellery on last as a finishing touch
- Wipe jewellery clean gently with a soft cloth if necessary.
- Store away in a safe place to avoid tangling and damage and do not tug or pull at the strands
Specifications:
- Metal: 925 Sterling Silver Swarovski crystals used: A193 #pp12
- 6 piece aquamarine colour, A193 #pp32
- 9 piece aquamarine colour. A193# PP32
- 8 piece light azore colour; A193# PP32
- 8 piece white colour; 4745# 10mm
- 1 piece crystal bermuda blue colour Bracelet length 15.5cm